A Bookworm Review by Ana
Game Day Baby
Contemporary Romance
I give this book 5 stars!
Sometimes you need to think with your heart and not with your mind…
Have a look at the blurb:
A steamy new full-length standalone novel by Amazon bestselling authors C.M. Seabrook and Frankie Love!
I had it all planned out.
I'd find a girl, marry her, get the white picket fence and make a family.
But then a baby is dropped off at my doorstep.
My baby.
Turns out I'm more than an NFL quarterback — I'm a father.
And my daughter's mother is missing. Or she ran away.
No one knows, not even her sister Aria Ryan.
Aria carries a gentle grace that doesn't match her story.
She has every reason to run — her sister has made her life a living hell.
But Aria is different. And I want her to stay.
A baby changes everything and this game I'm playing isn't won on the field.
It's dirty, it's dangerous, and I'm in it to win it.
Game Change Baby features Tatum Madden, from the Princeton Charming books!
This time he isn't letting the girl of his dreams get away. He's fighting for more than touch down — he's fighting for his daughter's life. 
#MyReview:
It's book after book and I couldn't be happier… These two keep giving me some stellar stories and I can't get enough… I always want more and they are providing. Lol.
Frankie Love and CM Seabrook have this great chemistry and that is the recipe to success.
Game Day Baby is their latest release and tells us the stories of Tatum and Aria.
I've wanted to know more about Tatum since I've finished the Princeton Charming series and now my wish came true…
Tatum dedicated his life on the field. NFL was his life but he had a dream. To find the girl of his dreams, get married and eventually having kids but he started it backward…
Aria is well known by the media. She and her sister were used to be in the spotlight. She lives to teach dance but her sister has other ideas and now…
My heart was so full that I was scared it might burst. This book was so so good that I wanted to keep reading.
Sublime plot, very well written, super engaging and intense. It was a bumpy journey and I loved every bump.
It was reading chapter after chapter without stopping. And if someone would intentionally interrupt me I was super mad… A mistake right? Why bother someone when their reading?
One minute I was mad because things were getting out of hand and the next I was almost into tears… It was beautiful despite the ugliness that lurked behind the scenes… It was the perfect combination of love and kiss, friendship and betrayal, family and greed. Each element brought even more glamour and feelings to the story. But don't be sad… We have some intense hot scenes that will melt your skin… Just saying.
It was great to have news from Charlie and Spencer… And it was even better to be introduced to new characters that I hope will have their own books… Can't wait…
Well, well, well Frankie and CM… You guys keep giving me amazing books after books and I couldn't be happier… Now I can't wait for your next one.
I voluntarily reviewed an Advance Reader Copy of this book.
Links:
Amazon US: https://amzn.to/2B9OzP6
Free with KU
Add to your TBR: https://bit.ly/33uBqfX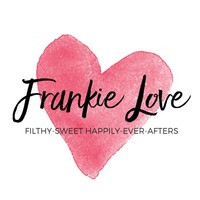 Frankie Love writes sexy stories about bad boys and mountain men. As a thirty-something mom who is ridiculously in love with her own bearded hottie, she believes in
love-at-first-sight and happily-ever-afters. She also believes in the power of a quickie.
You can find her at FRANKIELOVE.NET or on FB.
Frankie also writes under the pen names CHARLIE HART.
❤️Get ready to fall in love … you deserve it!❤️
All of Frankie's books are stand-alones with happily-ever-afters! Promise!
The Mountain Man's Babies series is most fun read in this order: TIMBER, BUCKED, WILDER, HONORED, CHERISHED, BUILT, CHISELED & HOMEWARD!
The LAS VEGAS BAD BOYS are most fun read in this order: ACE, KING, McQUEEN, and JACK.
The LOS ANGELES BAD BOYS are most fun read in this order: CASH, HOLDEN, JUDE.
The Mountain Man series is most fun read in this order: CLAIMED, ORDERED, WIFED, EXPLORED!
The Mountain Prince series is most fun read in this order: COURTED, CHARMED, CROWNED
Author Links:
Facebook Goodreads Amazon Website Instagram

C.M. Seabrook is the author of Fighting Blind, Melting Steel, and Moody, as well as the Amazon bestselling fantasy romance Cara's Twelve, the Therian Agents paranormal romance series, and co-author of the Mated by Magic series.
When she isn't reading or writing sexy stories, she's most likely spending time with her family, cooking, singing, or racing between soccer, hockey and karate practices. She's living her own happily ever after with her husband of fifteen years and their two daughters.
She loves creating new exciting characters – from sexy, bad boy alphas, to the passionate, fiery women who love them.
Canadian born and bred, she started life in Edmonton, Alberta, and now resides in London, Ontario. She attended Western University where she graduated with an Honors degree in Anthropology.
Her guilty pleasures include red wine, pasta, binge watching Starz originals, and hanging out with her rescue pup, Jaxx.
She loves to hear from her readers and can be reached at cm.seabrook.books@gmail.com
Author Links:
Facebook Amazon Goodreads Website BookBub Twitterhttps://amzn.to/31CwhlQ