A Bookworm Review by Ana
Kissing Princeton Charming
Contemporary
Romance
I give this book 5 stars!
Life is not always a fairytale…
Have a look at the blurb:
Things just got royally complicated!
We have reputations for a reason.
His?
Spencer Beckett: Princeton Charming. Ivy League Playboy. Rich AF.
Hers?
Charlotte Hayes: Campus sweetheart. Virgin. Working her booty off to get through this last semester.
When a bet pushes these two together it's fire and ice … and Charlotte is melting. Fast. But Charlotte has a chip on her shoulder. She doesn't believe that fairy tales exist in the real world.
One kiss tells her this is a bad idea.
Two kisses tells her he's too good to be true.
Three kisses and she's royally screwed.
Spencer Beckett might be everyone else's Prince Charming but can he sweep this princess off her feet?
** Kissing Princeton Charming is book one of a four book series releasing January 2019
#MyReview:
Can you imagine the way I was feeling when I received a new message from these authors saying that they had a secret project and they wanted my input on it?? I was super excited about it and couldn't start it fast enough. Who would have thought that this simple Portuguese girl, that used to hate reading would be enjoying this so much.
Frankie Love and C.M. Seabrook has been in my book life for a while now and I can't wait to meet them in person…
Kissing Princeton Charming is their latest release and tells the stories of Spencer and Charlie.
Spencer is fed up with the life he has. Being born into a rich family, a politician family is exhausting and he's fed up with all the lies and appearances… He's grieving his brother´s death and that isn't easy. He's cocky and because of his smooth ways he has a peculiar nickname. When he attends a boring and fake as hell party he couldn't take his eyes from…
Charlie is feisty that always speaks what's on her mind. She doesn't take shi*** from no-one not even from Princeton Charming… Secretly she has a thing for him but she can pursue it.
She needs to work to be able to pay her bills, so her days are filled with studying and working…
I'm mad. I mean happy that this books was amazing but mad because it ended…. I want more… Like right now…
Perfect plot, superb writing full of feelings, emotions and desire.
The chemistry these two share is beautiful despite the bumpy start.
How can two different souls merge? How can you know you're worth fighting for?
Reading this book was a pleasure. There were some bumps on the road but that only proved to me that this was going to be a masterpiece.
Page after page and I was getting even more addicted to this story. And we have some pretty hot stuff into the mix as well.
Seriously guys? You couldn't give me the all story? No… You just needed to torture me a bit…
Please give the rest of the story because you guys have some explaining to do…
I voluntarily reviewed an Advance Reader Copy of this book.
A Few Teasers:
Links:
Amazon US: https://amzn.to/2CpXxZ0
Amazon UK: https://amzn.to/2SYrRB5
Amazon CA: https://amzn.to/2CsQ7Eo
Amazon AU: https://amzn.to/2DgZ6dn
Free with KU
Add to your TBR: https://bit.ly/2DeWJro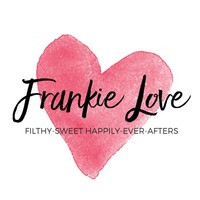 Frankie Love writes sexy stories about bad boys and mountain men. As a thirty-something mom who is ridiculously in love with her own bearded hottie, she believes in
love-at-first-sight and happily-ever-afters. She also believes in the power of a quickie.
You can find her at FRANKIELOVE.NET or on FB.
Frankie also writes under the pen names CHARLIE HART.
❤️Get ready to fall in love … you deserve it!❤️
All of Frankie's books are stand-alones with happily-ever-afters! Promise!
The Mountain Man's Babies series is most fun read in this order: TIMBER, BUCKED, WILDER, HONORED, CHERISHED, BUILT, CHISELED & HOMEWARD!
The LAS VEGAS BAD BOYS are most fun read in this order: ACE, KING, McQUEEN, and JACK.
The LOS ANGELES BAD BOYS are most fun read in this order: CASH, HOLDEN, JUDE.
The Mountain Man series is most fun read in this order: CLAIMED, ORDERED, WIFED, EXPLORED!
The Mountain Prince series is most fun read in this order: COURTED, CHARMED, CROWNED
Author Links:
Facebook Goodreads Amazon Website Instagram

C.M. Seabrook is the author of Fighting Blind, Melting Steel, and Moody, as well as the Amazon bestselling fantasy romance Cara's Twelve, the Therian Agents paranormal romance series, and co-author of the Mated by Magic series.
When she isn't reading or writing sexy stories, she's most likely spending time with her family, cooking, singing, or racing between soccer, hockey and karate practices. She's living her own happily ever after with her husband of fifteen years and their two daughters.
She loves creating new exciting characters – from sexy, bad boy alphas, to the passionate, fiery women who love them.
Canadian born and bred, she started life in Edmonton, Alberta, and now resides in London, Ontario. She attended Western University where she graduated with an Honors degree in Anthropology.
Her guilty pleasures include red wine, pasta, binge watching Starz originals, and hanging out with her rescue pup, Jaxx.
She loves to hear from her readers and can be reached at cm.seabrook.books@gmail.com
Author Links: